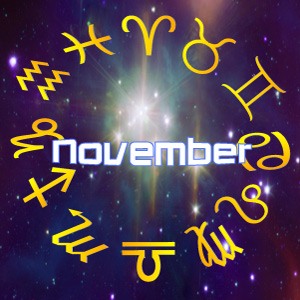 Horoscope forecasts for the period:
01,November to 30,November »»
These are next month's predictions for your name derived zodiac sign according to Vedic astrology. For your reading, select a zodiac sign which has the first letter of your name in brackets or the corresponding phonetic pronunciation of the first syllable of your name.
Not sure of your zodiac sign? Try this.
Lucky Dates in November, 2023
»
Given below, in chronological order is an assortment of auspicious dates in November, according to Vedic astrology. These dates are good for carrying out important plans, particularly if they coincide with 'Your Lucky Numbers', (see the Free section in the top Menu), but avoid the 'Rahu Kal' times, given in Today's Horoscopes.
From 6:00am, Nov. 1st to 4:36am, Nov. 2nd
From 5:57am, Nov. 3rd to 7:57am, Nov. 4th
From 6:00am, Nov. 5th to 10:29am, Nov. 5th
From 1:47am, Nov. 12th to 6:00am, Nov. 12th
From 3:23am, Nov. 14th to 6:00am, Nov. 14th
From 3:01am, Nov. 16th to 2:17am, Nov. 17th
From 1:17am, Nov. 18th to 6:00am, Nov. 19th
From 10:49pm, Nov. 19th to 5:22am, Nov. 20th
From 8:01pm, Nov. 21st to 6:00am, Nov. 25th
From 2:56pm, Nov. 25th to 2:06pm, Nov. 26th
From 1:36pm, Nov. 27th to 6:00am, Nov. 28th
From 2:06pm, Nov. 28th to 1:59pm, Nov. 29th
From 3:02pm, Nov. 30th to 11:59pm, Nov. 30th
All times are in Indian Standard Time. (IST: GMT+05:30 hours.)
Topics Recommended for You