Select your cards to begin your 'Reading'.
Ask your questions about the future, in complete privacy.
You are not required to divulge any personal information and no information is stored.
This interactive service is 100% Free of Cost, but provides accurate predictions.
Your time and date of birth are not required.
This is not a fortune telling game, this is an online version of the PowerFortunes, Fortune Telling Cards and these predictions are based on the last of the 'Three Layouts' that allow an Enquirer to learn if a specific wish or desire will be realised in the future. Hence, you must frame your questions in such a manner.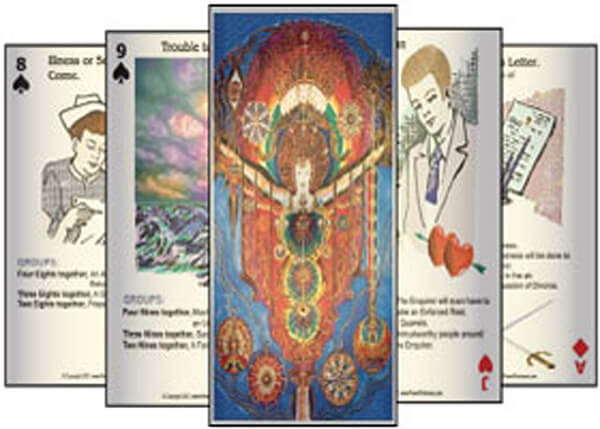 These are also not simple yes or no answers. In additon to the fate of your main question, the remaining eight cards in the spread depict events that lie in your destiny. The meanings of all the cards are to be read in conjunction with one another. The reading as a whole, will create a clear prediction of events that lie in the fate of the Enquirer, in the short to mid-term future.
Follow the instructions. Once you master use of these cards, you will find that using them on a regular basis is a rewarding experience.
FAQs About Fortune Telling Cards
To Begin:
Select an 'Enquirer's Card' that represents you, from the four cards shown below. Then, scroll down ↓ and read the instructions.
HINT: The descriptions have been written in a Caucasian context (these cards did originate in medieval Europe). Therefore, if you are a man, click on a 'King' whose title is closest to your complexion.
That is, if you have fair skin and/or light coloured hair, click on the 'King of Hearts'. If you have dark hair and/or a darker complexion, click on the 'King of Clubs'.
All ladies who are not Widows, or Divorcees are to click on the 'Queen of Clubs'.
Please allow all the images on this page to download before you start.