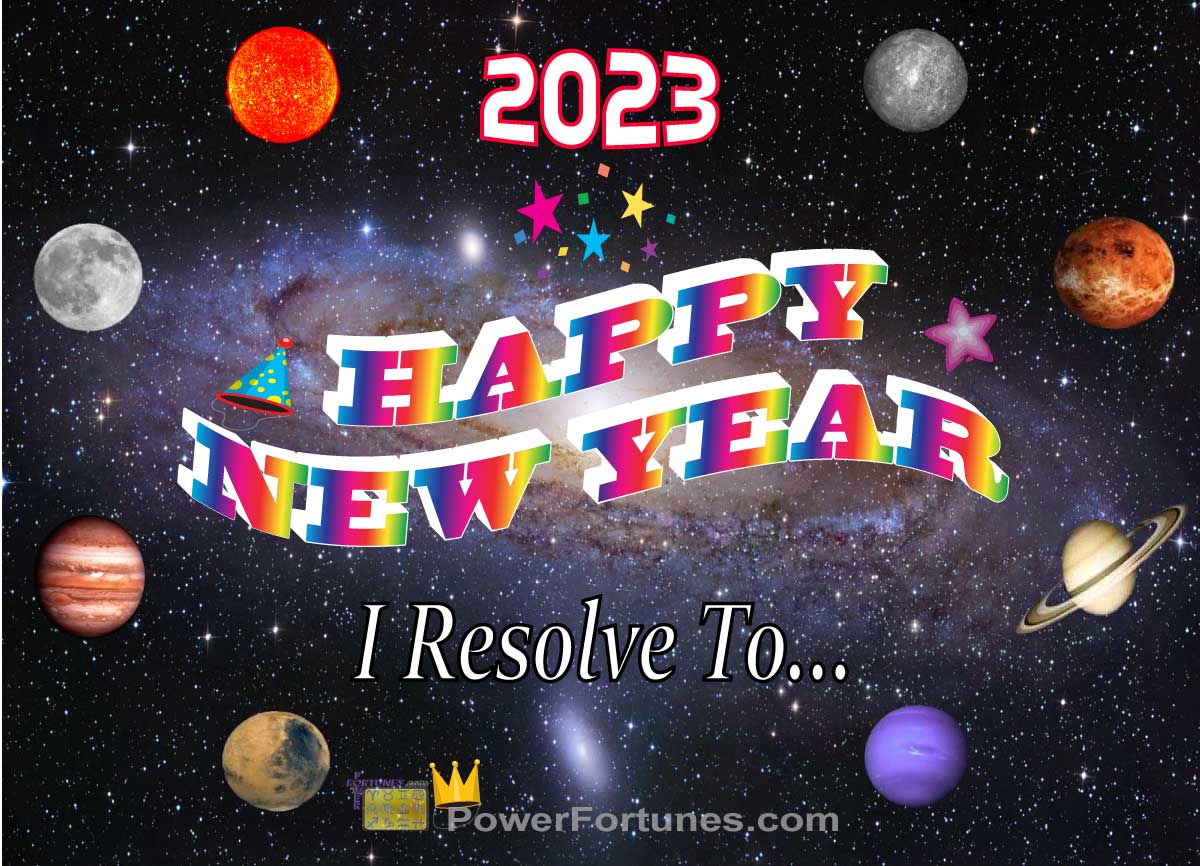 Not everybody is a fan of the ubiquitous New Year's resolution. Like them or loathe them, we all know in our heart of hearts that come New Year's Eve, we owe ourselves at least one vow of self-improvement. It's of course a completely different matter that most newly commissioned New Year's resolutions are liable to be consigned to the forgotten list, by the time we hit mid-Jan.
Rather than fighting an uphill battle against fate, why not use astrology to pre-empt what is in store for us and tailor our resolutions to meet those challenges? Well, that's what we'll attempt to do by casting the horoscope chart for the 2023 New Year and suggesting resolutions, based on how this is likely to affect each of the twelve zodiac signs. Keep an open mind because the results do deviate somewhat from your more common New Year's Resolutions. The horoscope chart for January 1, 2023 is thus shown below.

The Horoscope Chart for New Year's, 2023
Most astrologers will agree that the most striking feature of this chart is that Jupiter occupies the ascendant's house, in Pisces. That is, a strong Jupiter, the planet of wisdom, positivity and good fortune occupies its own zodiac sign and is the most influential planet in this chart. This sets 2023 off to an auspicious start and the emphasis for all concerned should be, to introduce greater spirituality to our normal routines. There will be rewards for those who strive to bring progress to every aspect of their lives.
Predictions for 2023, for all Signs of the Zodiac
Your ruling planet Mars, will be in-retrograde and the malefic Vedic planet 'Rahu', or the northern lunar node, will occupy your zodiac sign as 2023 begins.
Challenges for Aries: You will feel frustrated by the obstacles that crop up in many of your on-going plans. You will be inclined to seek shortcuts to success, but they will not have the desired effects.
Opportunities for Aries: Rising to the challenges that life throws at you, will lead you to new possibilities. Even though it may not seem like it, the planets are supporting your efforts and the 'Navgrah Yantra' talisman will further strengthen their influence.
New Year's Resolution for Aries: "I will remain unfazed, because patience is a virtue".
A retrograde Mars will enter Taurus in January and Venus will be placed in your house of fate. This will have a mixed influence on your zodiac sign.
Challenges for Taurus: Expect the unexpected. You will be subjected to Mars's fiery influence and will be liable to flying off the handle, at the slightest provocation. Staying calm under pressure will your biggest challenge. Avoid rash and impulsive actions.
Opportunities for Taurus: New career and work opportunities will come your way. This is the time to take a few calculated risks and to cautiously follow your instincts. The 'Sukh Samriddhi Yantra' talisman will help you to convert opportunities into tangible results.
New Year's Resolution for Taurus: "When in doubt, go slow and steady".
Mercury will be in-retrograde as you enter the New Year, but the Sun favourably aspects your sign.
Challenges for Gemini: Focusing on your priorities and important matters will be difficult. This will mainly be due to a lack of clarity in your thoughts and decision making process.
Opportunities for Gemini: Have faith in your ideas and convictions. Geminis should focus on their core talents and passions. There will be opportunities for you to broaden your knowledge and skills. You could receive some form of recognition or honour for your hard work and creativity. The 'Gayatri Yantra' talisman will allow you to radiate the power of the Sun and to stay centred.
New Year's Resolution for Gemini: "If I focus my energies, I can achieve almost anything".