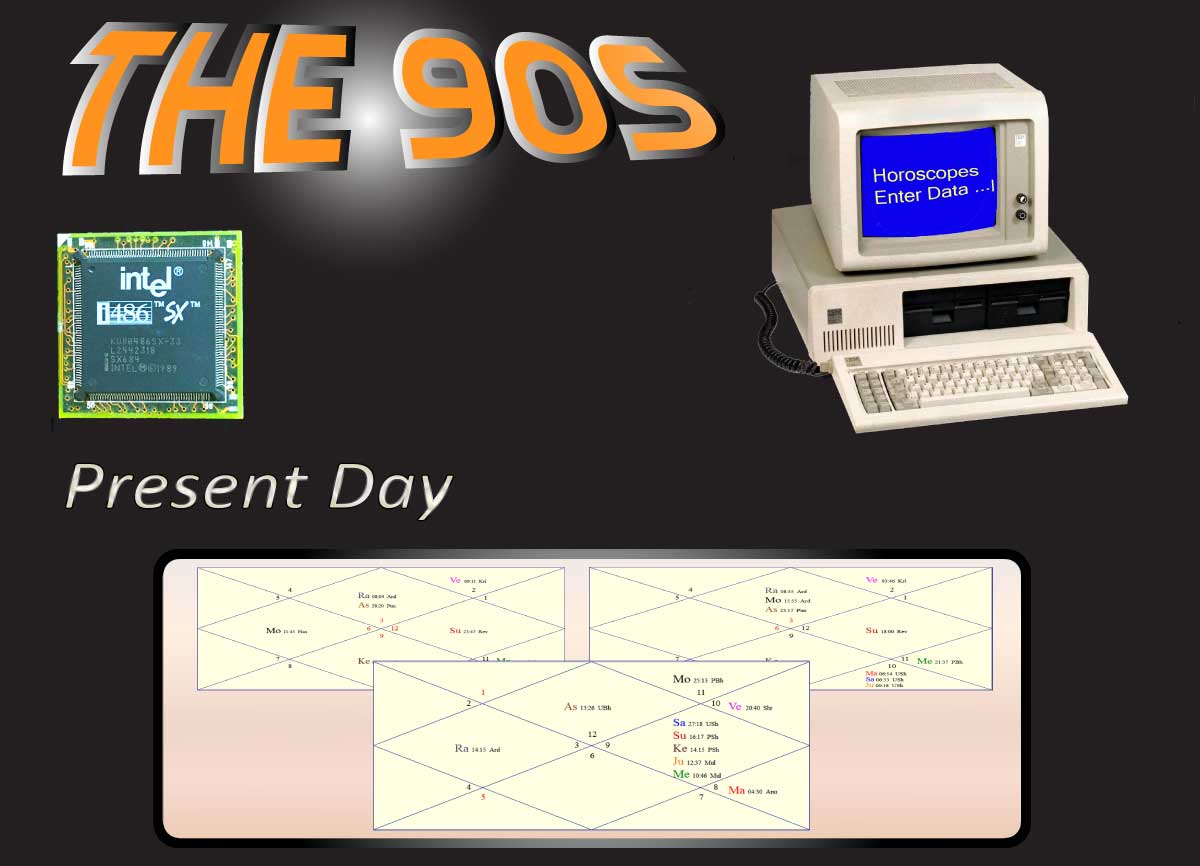 The world is transitioning from an industrial revolution to an age of technology driven information. Whether you call it natural progression or technological evolution, it is an undeniable, self-sustaining, immoveable force, propelled by infinite moving parts. As hardware becomes smaller and yet more powerful, the possibilities of what can be achieved are becoming just a little more amazing.
There is no reason that astrology should remain a mute spectator to the achievements of the computer age. In fact, astrology makes the perfect candidate to be subjected to a technological makeover.
Astrology Applied Computer Technologies
Back in the day when a computer the size of a small town house, harnessed all the power of an older generation smartphone, astrologers had to chisel out horoscopes the hard way. This involved making a number of manual calculations and the referencing of almanacs, just to hammer out one, sometimes not very accurate, natal chart.
Snap forward to the '90s, the 486 and to when computers started putting down 'Personal' as their first names. This was a time when relatively less expensive, user friendly PCs brought professional grade astrology software, right to the desks of the average astrologer. This meant that for the first time, the labour intensive, manual process of casting a horoscope could be done away with in favour of an automated, instantaneous method. As a result, complete horoscopes were now whizzing out of printers faster that you could say, 'Dot Matrix'.
This was the real technological revolution of astrology because this meant that astrologers were now able to provide quick, cost effective services to anyone, anywhere. Astrologers haven't looked back since, in fact they now look straight into their smart devices and analyse horoscope details in full HD glory.
The Internet has Changed Astrology
Yes, it absolutely has. But, let's put things in perspective here. The Internet has changed the world and the way astrology is practiced, is just another one of those things that has changed along with everything else.
The Internet is a medium like no other and it allows goods, services, information, ideas, messages and a million and one other things to be exchanged globally. An astrologer only needs to be armed with the right hardware, software and awareness of the online world, to make their services available on the Interwebs.
Nowadays content about astrology is available in every conceivable online form, be it blogs, groups, mainstream media content, podcasts, Youtube channels, ecommerce stores, you name it, astrology has it covered. The Internet has taken something that used to be quaint and off beat and made it mainstream.
Astrology and other alternative practices have benefitted from the Internet in another, deeper way too. It has allowed for a comparison and exchange of concept amongst the different forms of astrology, such as Vedic, Krishnamurthy Padati, Chinese, Hellenistic and Babylonian astrology. There are now many people out there who not only have an understanding of different types of astrology, but who understand the mechanics of different predictive techniques in general.
There is a flip side though. Along with all the genuinely useful information, there is also a lot of garbage content, mostly mass produced by large media websites. The content that is churned out 24x7 by sites like Buzzfeed, Yourtango, Bestlife and Refinery29 to name a few, is responsible for a wholesale dumbing down of astrology. This type of content serves no purpose other than to damage the image of this ancient discipline, by perpetuating stereotypical misconceptions. Regrettably, Google Search rewards trash content produced by corporate sites, furthering the myth that such articles are popular.