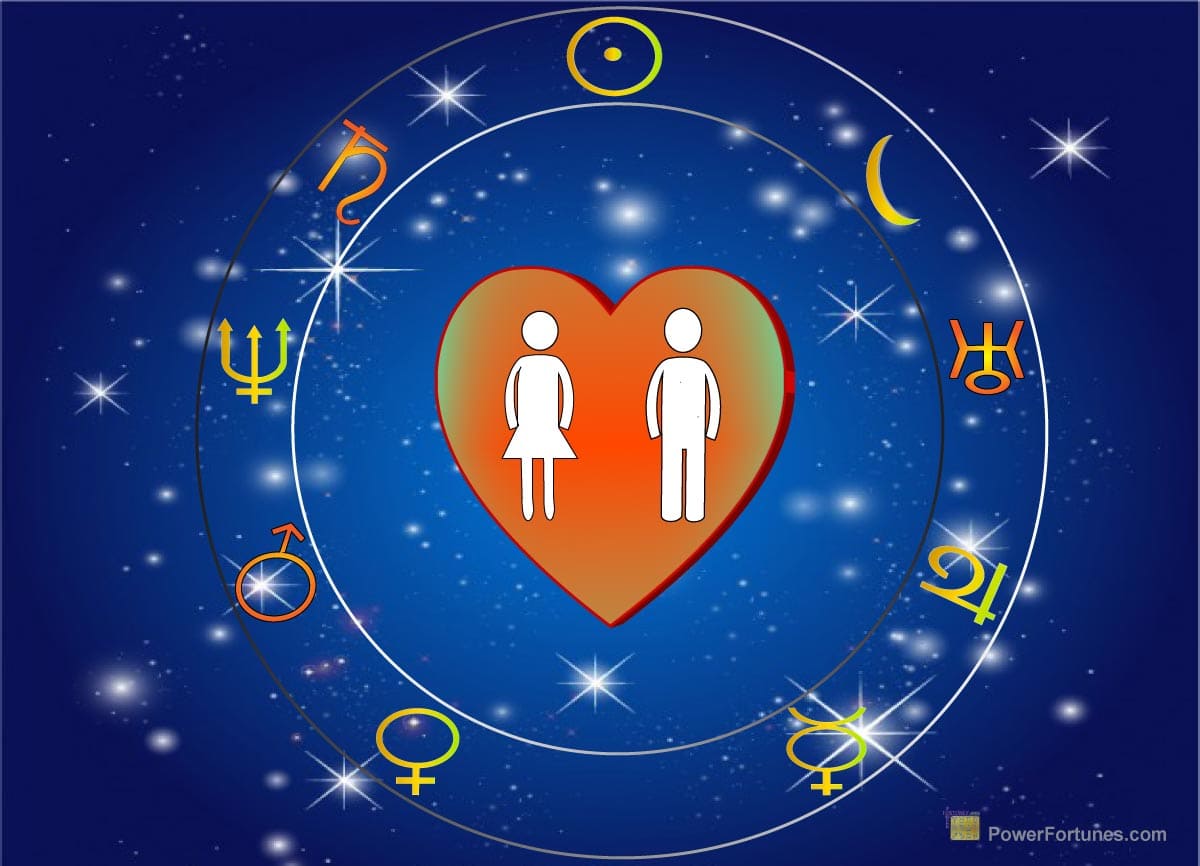 The desire to find a partner is a powerful instinct common to all species. Humans however, have taken this basic instinct to the next level and evolved it into the fun game of flirting. At least, I'm not aware of any monkey pick up lines!
For prehistoric people, to flirt may have meant, to club an attractive member of the opposite sex around the head and drag them off to the nearest cave. In the modern era things are a little more nuanced. We subtly express our interest to a possible partner and if reciprocated, we engage in activities of a social nature such as, 'To go clubbing', as opposed to, an actual 'Clubbing'. Well, that's how it's supposed to work in theory.
We typically rely on psychological hints to guide us when we flirt, which is why flirting is an art that is not easily mastered. We essentially flirt by the seat of our pants, so the possibility of picking up the wrong signals is always high.
Astrology on the other hand, is governed by well defined principles that can be employed to make the dating game, a far less brutal experience.
Horoscope charts are how astrologers put astrology to work and each person has their own unique birth chart. An astrologer can map out almost anything by analysing the houses of this chart. In the case of amorous behaviour, the houses that are of relevance are:
The 1st House. The 1st house is also known as the ascendant's house and this governs our thoughts and basic nature. The planets that rule and occupy this house go a long way in determining character traits, such as if a person is predisposed to philandering or a coquettish nature.
The 6th House. This is the house of friendships, enmities and short-term relationships. Depending upon the influences on this house, a person may have several or only a few, romantic relationships.
The 7th House. This is the house of relatively longer term relationships and married life. This house shows if a marriage may be prone to extramarital complications. The degree of stability and affection in a marriage, as well as a spouse's characteristics can also be determined from this house.
When the following planets influence the above mentioned houses, they can encourage an amorous, flirtatious nature.
Each planet has a corresponding number and when these numbers match, passions can potentially ignite. Be on the look out to see if your date of birth, ultimate number, destiny number or compound number (sum total of your date of birth, reduced to a single digit), corresponds to any of those for the person that you are interested in.
Venus represents love in both Vedic and western astrology. When Venus is favourably placed in the 6th house, a person may be involved in a number of short-term relationships. If this planet is debilitated in this house, there will be a lack of affection in one's romantic relationships. When this planet is favourably placed in the ascendant's house, the individual is likely to be physically attractive and be drawn to attractive members of the opposite sex. Venus's number is '6'.
The Moon rules over matters of the heart and has an important role to play in romantic relationships. It has a decidedly feminine nature and is responsible for mood swings and emotional chemistry.
The Moon is a fast moving planet and metaphorically, this doesn't hang about in one place for too long. How successful your ability to flirt is, in any given situation, will depend on how the Moon is positioned at that point, with regards to the person you are flirting with.
The Moon has a relaxing influence. This makes a person seem less pushy or distastefully persistent. This planet can also lend an endearing coyness to one's demeanour. The Moon's number is '2'.
Flirting is all about communication and Mercury is the planet that governs how we communicate with the people we find attractive.
Mercury's transit helps you to balance old habits and develop new interests that will help you lighten up, as well as change your view of the world. This is also a planet of new beginnings. When this planet enters your sign, it can trigger inspiration, creativity and a desire to explore new options. The corresponding number for Mercury is, '5'.
The Sun is usually not associated with attraction and relationships, but this planet can instil characteristics that can make someone seem attractive.
When the Sun is favourably placed in the ascendant's house, a person will both attract and seek, attention. The Sun instils confidence, courage and general appeal.
The corresponding colours for the Sun are red and maroon. Wearing the Sun's colours increases its influence and will not only allow you to be more persuasive, but will cause you to radiate like the Sun and seem more attractive. This applies to both men and women. The Sun's number is '1'.
Rahu and Ketu: If passions are involved, these bad boys of astrology can't be far behind. When these twin mythical planets influence the 1st, 6th or 7th houses, they can encourage lust, carnal desires, lapses in judgment and short term relationships.
'Rahu' is likely to occupy the ascendant's house of your typical philanderer and these characteristics will be more evident during 'Rahu' transits.
These two planets also bring about strife, upheavals and confusion, which is why it's not all fun and games during transits of either planet.