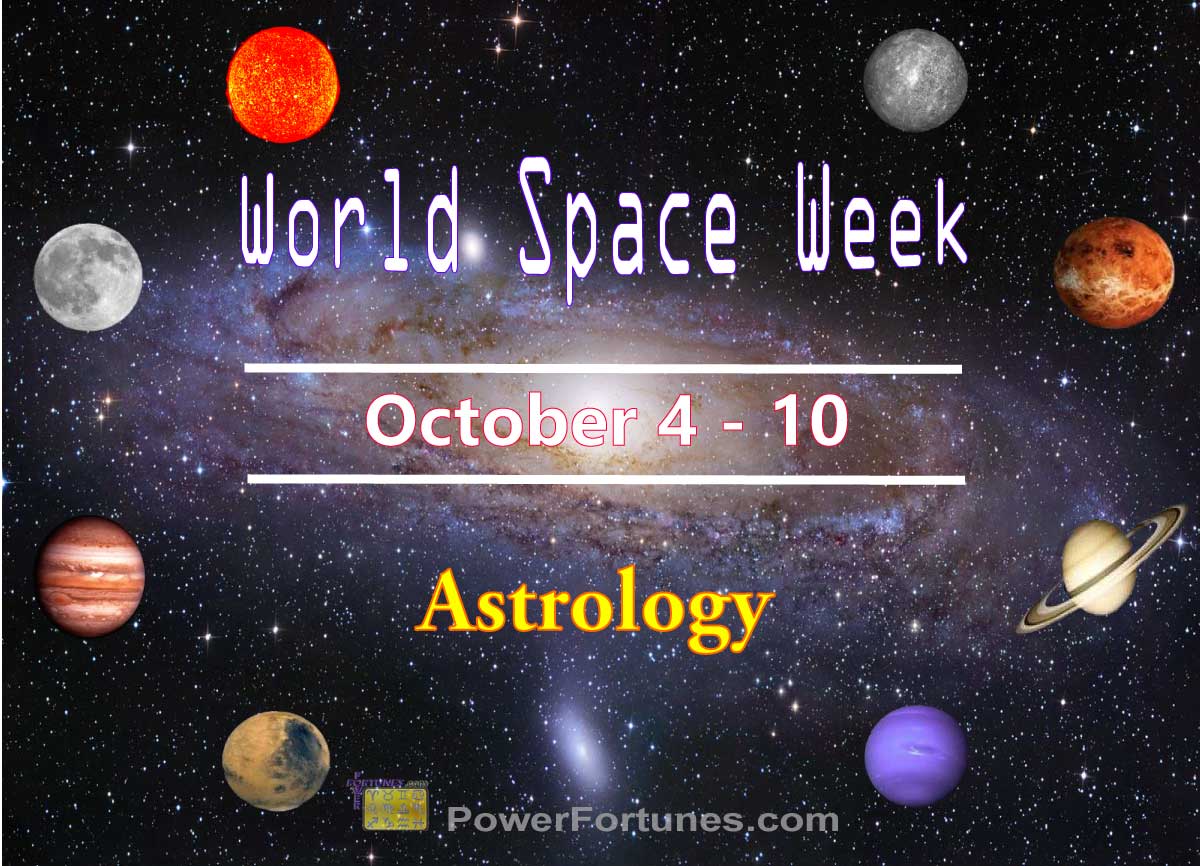 In 1999, the UN General Assembly declared that every year, October 4 to 10 would be observed as World Space Week. This day was chosen to commemorate the first ever launch into space of a man-made satellite, the Soviet Russian Sputnik 1, on October 4, 1957.
Things have come a long way since then. Space isn't quite the 'Final Frontier' that it used to be in the days of the Star Ship Enterprise. Modern day marvels like the Hubble and James Webb telescopes now allow us to peer into the very heart of the Universe and peel away its mysteries, layer by layer. Having said that, the Klingons and Vulcans have so far, proven to be more elusive than we may have anticipated. This disappointment notwithstanding, man is set to walk the surface of a planet other than Earth's, in the not too distant future. Also, ambitious private players have changed the rules of engagement and the space race is now no longer the exclusive domain of international rivalry.
As practitioners of astrology, at PowerFortunes we believe that in time, a greater understanding of the workings of the Universe will lead to a greater appreciation of astrology. Observing World Space Week is an opportunity to bring us a little closer to that objective.
Astrology vs Astronomy
The principles of astrology and astronomy are not mutually exclusive and a belief in both disciplines is possible. They are two sides of the same coin, the Yin and Yang of the Universe if you like. Astronomy is the logical, tangible, observable way of explaining existence, whereas astrology is a spiritual, mystical and somewhat subjective explanation of why things are, the way they are.
As astrology and astronomy share common terminology and operate on some common principles, many people think of the two as the 'Twins' who are polar opposites, somewhat akin to Arnold Schwarzenegger and Danny DeVito in the movie of the same name. That is, astronomy being the shining example of perfection and astrology being the stunted sibling, of somewhat questionable DNA. Needless to say, this is not an analogy that we would be inclined to agree with.
Astrology often receives bad press because of this use of common terminology. Questions such as, "How can planets influence our fortunes here on Earth", "What happens when new celestial objects are discovered", "How can the Sun and Moon be termed as planets", are often used to discredit astrological beliefs. There are valid astrological explanations for all such questions, but these follow the principles of astrology, not those of astronomy and never shall the two be interchanged.
In order to use astrology, you have to accept as fact, notions for which there is no corroborating scientific equation or quantifiable evidence. What has to be remembered is, when astrologers talks about say, a planet, they are not referring to a body made of gas and rock, but to the metaphysical characteristics and spiritual energy associated with that planet. For astrologers, the proof of the pudding, lies in the eating. The fact that astrology has worked for thousands of years and has stood the test of time, is the reason to believe.
If however, you thought that it is only astrology that requires us to accept incredible conclusions, you'd be mistaken. If we remove ourselves from our human sized scale of reference, scientific theory can seem as bizarre as anything that astrology brings to the party.
Mind Over Matter
When we look at things on a cosmic scale, we have to accept that there are major gaps in our knowledge. For example, the theoretical sum of the mass of the Universe or forces of gravitational attraction, do not quite add up. This leads us to the possible existence of 'Dark Matter', an exotic material that can only be discerned and cannot be observed. Also, our present understanding of the cosmos is bounded by the limits of the observable Universe and the moment just after time began. Go any further in either direction and our present laws of physics breakdown.