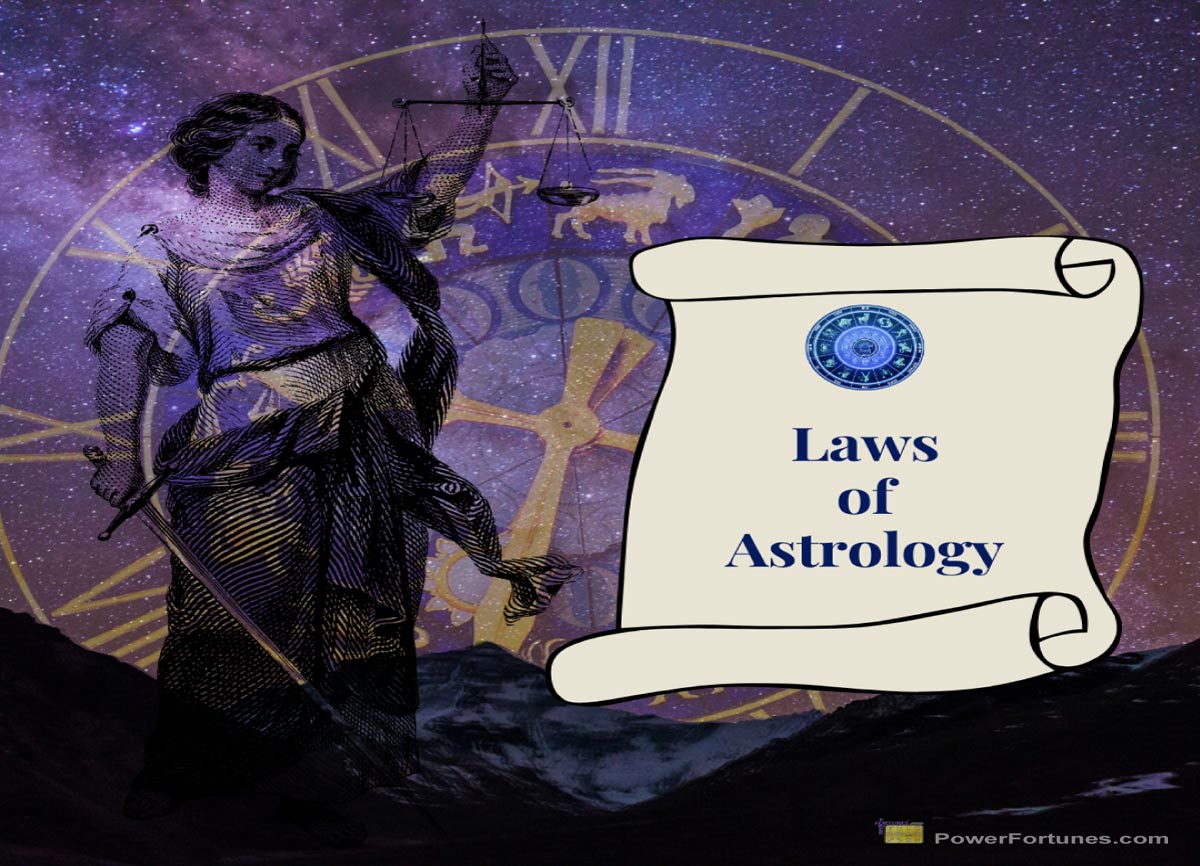 When we talk of the laws of astrology, we have to remember that this is not a rigid discipline in the same way as say a science like physics is. That is, if 'Laws' are taken to mean tenets that apply universally and which hold true under all circumstances, then in astrology, there are in fact none. Going back to the physics analogy, there are constants like the speed of light for which Einstein said, "E = MC2, this cannot and will not change anywhere in the universe", or words to that effect. Similarly, we have the three Laws of Motion that have applied to classical physics ever since Newton bounced an apple off his head.
While there have been many eminent experts in the field of astrology, they haven't really pronounced any 'Thou shalt nots'. The laws of astrology are more in the form of highly recommended principles and some of the more prominent amongst these have been described below. Follow them and you are likely to find astrology to be a rewarding practice. However, should anyone indulging in the art choose to bend these laws according to their own whims and fancies, they are free to do so without fear of being read their rights by the astrology police!
There is suggestion that astrology is based on the principles of alchemy. However, astrology has many forms and most of these do not comply with this theory. Therefore, other than the often used quote of, 'As above, so below', there is no meaningful correlation between alchemy and astrology.
The Main Principles of Western Astrology
Western astrology operates on several fundamental principles or laws. These laws provide a general framework for understanding the principles of Western astrology.
The Law of Correspondence: This law suggests that there is a correspondence or connection between celestial bodies and earthly events. It implies that the positions and movements of the planets and stars can influence human behaviour and events on Earth. In other words, your bog-standard definition of all forms of astrology.
The Law of Planetary Influence: According to this law, each planet in the solar system has its own unique energy and characteristics that can influence different aspects of an individual's life. For example, the Sun represents vitality and self-expression, while Venus signifies love and relationships.
The Law of Signs: Western astrology divides the zodiac into twelve signs, each representing specific qualities and traits. The Law of Signs states that the position of the Sun at the time of a person's birth determines their zodiac sign and influences their personality and life path.
The Law of Aspects: Aspects refer to the geometric angles formed between planets in a birth chart. The Law of Aspects states that these angles create specific relationships between the planets, influencing their combined energy and shaping a person's experiences and interactions.
The Law of Transits: This law focuses on the current positions and movements of planets in relation to an individual's birth chart. Transits can bring about significant life events or trigger specific energies that affect personal growth and development.
The Main Principles of Vedic Astrology
Vedic astrology, also known as Jyotish, operates on several fundamental principles. The principles and techniques used in Vedic astrology differ in some aspects from Western astrology, highlighting the rich diversity in astrological systems around the world. It's important to note that Vedic astrology is deeply rooted in Hindu culture and traditions and has been practiced for thousands of years in India. Here are the main principles of Vedic astrology:
Karma and Destiny: Vedic astrology believes in the concept of 'Karma', which suggests that our actions in past lives and the present influence our destiny. It holds that our current life experiences are a result of past actions and that astrology can provide insights into our karmic patterns.
Birth Chart Analysis: Vedic astrology utilises a birth chart, known as a horoscope or Kundali, which is calculated based on the exact time, date and place of birth. The birth chart is a map of the celestial positions at the time of birth and is used to interpret various aspects of a person's life, including personality, career, relationships and health.
Nine Planets: Vedic astrology recognizes nine planets, including the Sun and Moon, as well as the shadow planets Rahu and Ketu. Each planet represents specific energies and governs different areas of life. The placement and interactions of these planets in the birth chart are analysed to make predictions and provide guidance.
Dashas and Bhuktis: Vedic astrology uses planetary periods known as 'Dashas' and sub-periods called 'Bhuktis' to determine the timing of events in a person's life. These periods are based on the position of the Moon at birth and provide insights into significant life events and experiences.
Remedies and Rituals: Vedic astrology offers various remedies and rituals to mitigate the effects of challenging planetary influences and enhance positive energies. These remedies may include:

Colour based remedies.
Wearing gemstones, beads and rosaries.
Performing certain prayers, rituals or pilgrimages.
Reciting chants and religious texts.
Visitng shrines.
The worship of certain plants.
Fasting.
Engaging in philanthropic acts.

Jyotish Shastra: Vedic astrology is a comprehensive system that encompasses various branches and specialised areas, known as Jyotish Shastra. These branches include natal astrology (Janma Kundali), predictive astrology (Phalit Jyotish), medical astrology (Ayur Jyotish) and more, providing in-depth insights into specific areas of life.